Ampili Pillai
Blessed with a rich mellifluous voice, Ampili has been known to reduce audiences to tears with her soulful renditions. In the last decade, she has mesmerised and thrilled audiences through countless BAA productions. It is also the very same innate ability to draw the audience into her music that has amassed her loyal fans everywhere she performs.

Ampili started her music journey at the age of five under the tutelage of her mother. She continued her journey under Pankajam, Pattam Saraswathi and her mother's guru, Haripad Gopinath. Ampili won many prizes during her school and college days and grew to become a very confident singer. She furthered her quest in music by completing her B.A. and M.A. in music in Kerala University (Thiruvanathapuram) and her M.Phil in music in Madurai Kamaraj University (Tamil Nadu). Her gurus in University were Dr Omana Kutty, Dr Sujatha, Janaki Ammal, Dr Latha Varma and Cherthala R. Rangantha Sharma.

She started her teaching career in Nrityalaya in 2003, and successfully conducted our first vocal arangetram in 2006. She is also a visiting instructor at NUS Centre for the Arts. Her students have participated and won medals at several competitions including the National Arts Council's National Indian Music Competitions. In 2014, Ampili released her first solo album Poonkuyil which is enjoying a succesful run.
Arasakumari Nagaradjane
A resident vocalist for many of BAA's productions, Arasakumari is a very versatile and technically eloquent singer who is ready to take on any challenge. She has risen to the occasion several times by singing in non-familiar languages such as Mandarin and Hindi. She has also taken the lead role in several Therukkoothu performances, where her singing and acting have earned her enthusiastic praises.

Arasakumari's interest in singing started early, and pursuing a full time career as a vocalist came naturally. She did her B.A. in performing arts at the Bharathiar Palkalai Koodam in Pondicherry University and her M.A. and M.Phil in music at Madras University.

She has been a vocal teacher at Nrityalaya since 2005 and has conducted five vocal arangetrams to date. Students trained under her have participated in several competitions, the most prestigious of which was the National Arts Council's National Indian Music Competitions, where one of her students was awarded first place in 2011.

In addition to being an instructor at Nrityalaya, Arasakumari also mentors Bhaskar's Arts' youth orchestra Swathi. A motivated artiste, Arasakumari hopes to fulfil her aspiration to one day perform her own compositions with an orchestra.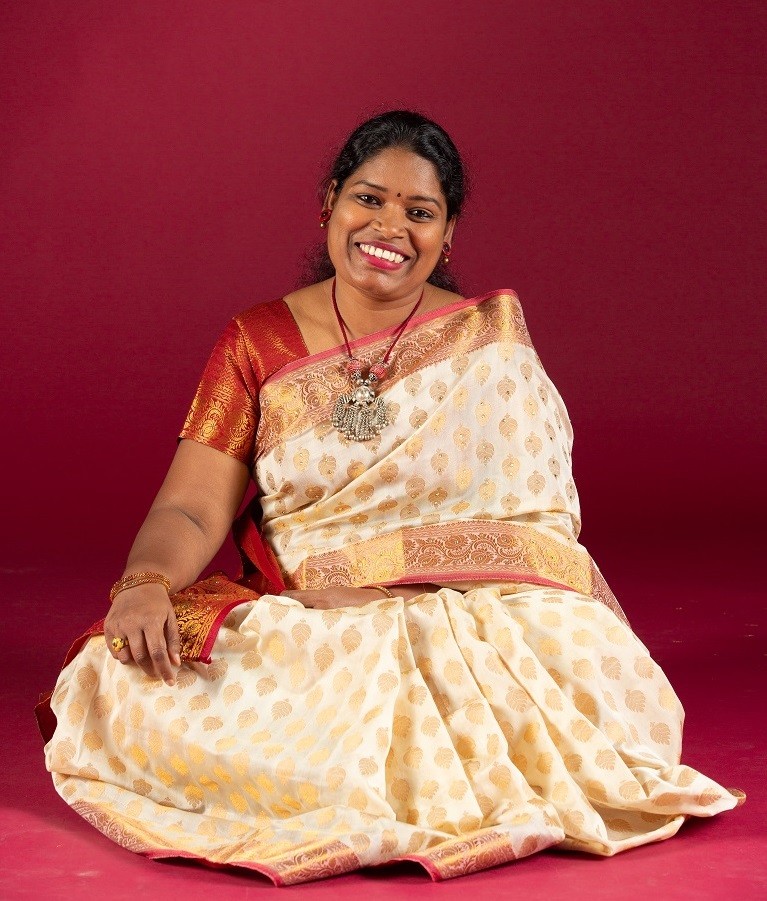 Dr Ghanavenothan Retnam
Son of pioneer local musician R Retnam, Ghanavenothan was the first Indian Singaporean artiste to receive the Young Artist Award for Music. Over the last 3 decades, his wizardry on the flute and an uncanny ability to anticipate a dancer's movements have made him a much sought-after musician locally as well as abroad.

Ghanavenothan was tutored by Pandit M. Ramalingam who nurtured his passion for playing the flute. A seasoned composer, Ghanavenothan writes music for orchestras and ballets for arts festivals locally and abroad. His recordings, based on classical, devotional and East-West fusion, have been heard on the National Geographic, Animal Planet and the Discovery Travel channels, His stirring and emotive performances for dignitaries and royalty led him to record for a Walt Disney feature film.

Beyond his artistic work, Ghanavenothan also serves on several of the National Arts Council Advisory panels. He also plays an advisory role to the People Association and the National Youth Council.

For his outstanding contributions to the field of arts, Ghanavenothan was the first local Indian artiste to be awarded the prestigious "Young Artiste Award" and bestowed the titles such as "Sangitha Kala Bhushana" and "Singai Venugana Visharada". He was also the recipient of the Lifetime Achievement and Humanitarian Medallion conferred by the world peace and harmony organisation in New York, USA and the first Singaporean to receive Doctor of Letters by the International Tamil University, USA.

He has been part of Nrityalaya's teaching faculty for more than 30 years during which time he conducted ten flute Arangetrams.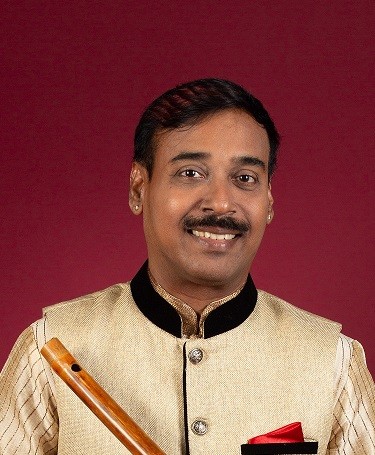 TV Sajith
Sajith is an expert Indian classical vocalist and violinist. With a virtuosity on the violin that defies definition, he has been a part of every BAA production since 2007. Starting with his first local production Yaatra II, he set the bar high and delighted audiences not only with his deft bow skills but also his equally soul-stirring vocals. Since then he has continued to deliver sheer magic on stage.

Sajith hails from an artistic family in Kerala and started his music education at the age of eight under the tutelage of N.K Gangadharan, Malabar Sukumaran Bhagavathar, R Thyagarajan and B Sasikumar. From childhood Sajith exhibited his musical talent and bagged several prizes in various youth festivals. He was also conferred the title of "Ganabhushan" by the Palakkad Chembai Memorial Government Music College and "Ganapraveena" (First Rank) by Swathi Thirunal Music College, Thiruvananthapuram. Sajith went on to complete his M.A. in music at R.L.V College, Thirupunithura.

Having served as a music instructor in several institutions, including the Kerala Sangeetha Nataka Academy, Sajith joined Nrityalaya in 2007 and has been teaching violin and vocal since then. He also teaches vocal at Nrityalaya's off-site venues at Sree Narayana Mission and Mata Amritanandamayi Devi Centre.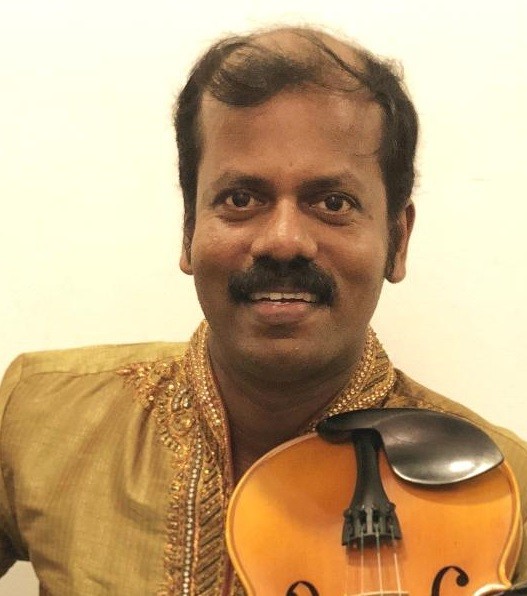 TK Arunkumar
An accomplished musician, Arun has been captivating local audiences with his soul-moving veena performances since 2010. His finesse and artistry came to light particularly in Sampoorna Ramayana. His natural flair for not only knowing how to improvise but also when, served to embellish every other production as well. Arun is a true musician at heart, slipping into his zone and just enjoying every note he plays, making his performances a joy to watch. A well-kept secret is his riveting voice and effortless vocal skills, which are yet to be showcased, but it is only a matter of time.

Arun started learning Carnatic vocal at age 10 and developed an interest for the veena at age 15. This culminated in his graduation where he was conferred the title "Ganabhushan" for veena and a diploma in vocal from the Chembai Government Music College in Kerala. He continued performing and giving veena and vocal training to students in India.

Arun is presently a faculty member at Nrityalaya Aesthetics Society and a visiting instructor at NUS Centre for the Arts. He has conducted one arangetram to date and expects to present another student later this year. He joined Nrityalaya in 2010 and has been teaching veena, vocal and harmonium since then.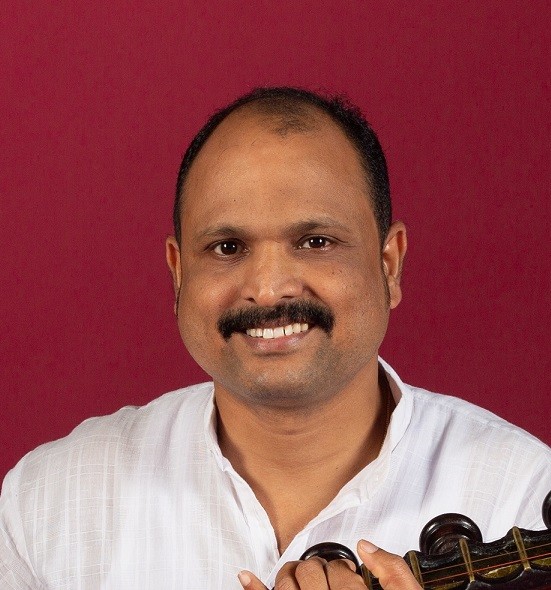 Nelluvai Ragesh
The most recent addition to the BAA Orchestra, Ragesh is an accomplished mridangist who delivers consistently and completely during performances.

Ragesh started his artistic journey under the tutelage of his father Raju Nelluvai, and continued under renowned mridangam artiste Sanoj Guruvayur. With an MA in mridangam from Kalamandalam Deemed University, Ragesh furthered his training under Trissur K Jayakrishnan and Cherthala S Dinesh as well. This All India Radio graded artiste has multiple notable performances to his name including one at Chembai Music Festival. Ragesh has provided mridangam accompaniment for several Carnatic music concerts, dance programmes and sampradaya bhajans all across India. A multi-talented musician, Ragesh also has a knack for composing devotional songs, varnams and thillanas.

A patient but disciplined teacher, Ragesh joined the Nrityalaya teaching faculty in 2019. He also conducted a short course on Thalam for Dancers in 2020.